Hello everybody,
I hope you had a great start into 2018 and life is treating you well!
Last year was wonderful and very busy. With my trio we played some fantastic venues in Germany, Poland, Russia and toured beautiful Italy.
We have met many old and new friends and have shared great experiences with lovely people from all over the world.

I am very honored and grateful to have received the Bluebird Award 2018 from "Beyond Blue-Connection" and "CreActive e.V." at the Jazzinstitut Darmstadt on Thursday! It was a really soulful and unforgettable evening with a lot of great friends and musical family, people I have known for many years. Thanks so much to Arndt Weidler for his overwhelming laudation, to Thomas Rauch for the beautiful document, to Alfred Wolf for the new artistic and unique Bluebird sculpture, to Alex Schildhauer and the whole staff for the great organization, for the amazing flower bouquet, thanks to everyone involved and of course to Beni Schmidt, who was and is the source and driving force behind so many Blues, Jazz, educational and sociocultural projects in Weinheim and beyond!!! It's an honor to receive this award, after many of my idols like Johnny Griffin, Benny Golson, Eddie Palmieri, Werner Wunderlich, Paul Kuhn, Mike Hennessey and many others since it's foundation in 1994. After the ceremony, the wonderful Ramon Valle Trio played a great concert! Thank you all, it was a very joyful and special day for me!
Further I am looking forward to other exciting things coming up and to once again an other Italian tour with my trio! We can't wait to see the sun again…the winter is just too long!!
I also did a radio broadcast called "Klassik, Pop etc." for the DLF that will be aired on March 24. at 10:05-11:00! I'll keep you posted!
Hope to hear from you and see you very soon again!
Best wishes,
Anke
Links:
- Interview jazz facts hr2, May 24. 2017.
- Echo Jazz 2016 / Anke Helfrich Trio playing "Sagrada Familia" youtube
- Making-of-CD-Dedication: youtube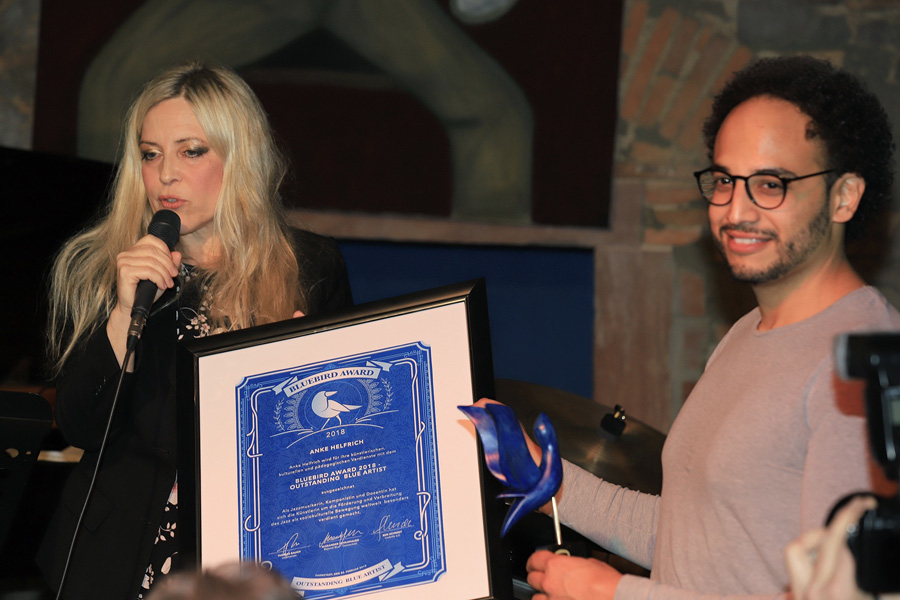 Award-Ceremony at the Jazzinstitut Darmstadt. Photo by Michael Frank
Award-Ceremony at the Jazzinstitut Darmstadt with Arndt Weidler, Alex Schildhauer, Anke Helfrich, Ben Schmidt, Ramon Valle Trio and his wife Marret, Peter Klohmann. Photo by Gunnar Fuchs
Concert Anke Helfrich Trio in Bari October 2017
Anke Helfrich Trio at Katowice JazzArt Festival/Poland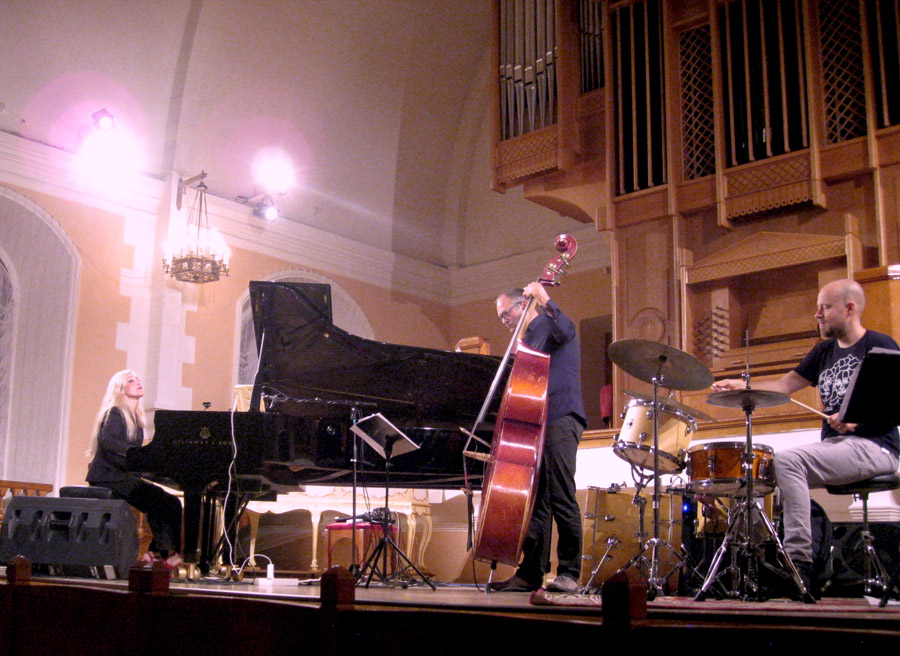 concert in Russia // photo by Friedhelm Schulz
rehearsal with Archie Shepp's band // photo by: main noir / st.tropez
More links:
- facebook.com/pages/Anke-Helfrich/
- facebook.com/people/Anke-Helfrich/
- Köpfe der Bergstraße