Hello dear all,
I hope you're enjoying the summer so far!
In June I spend some time in beautiful Florence and played concerts with my great colleagues Arne Huber, Claudio Sbrolli and Giovanni Pecchioli.
Million thanks to the German Institut in Florence and the European University Institute for making this musical experience possible.
After a full week teaching at the Academy in Remscheid with a wonderful team of teachers and hard working students, I was invited to play an open air concert as part of the Festspiele Wetzlar at their unique amphitheater. The week after I was happy to play with the great Caecilie Norby and her band at the Ystad Jazz Festival. It was a joy to see many of my friends again and play together at that gorgeous historic venue. I am looking forward to more upcoming concerts with Caecilie in the fall and next spring in Danmark, Germany and Switzerland.
At the moment I am preparing the second episode of my SWR2 radio show "Female Jazz Piano", honoring the music and careers of all these amazing women and role models. The next show will be aired on October 26. and will also be available at the SWR2 mediathek online.
I am looking forward to play a concert with Achille Succi and Batu Salliel's band at Nardis Jazz Club in Istanbul/Turkey in November. Many thanks to the Jazzverband Baden-Württemberg for supporting this great project. The rest of that week I will be teaching at the Uludag University in Bursa/Turkey for the European Jazz School, an always inspiring workshop with talented students from Turkey, Italy, Poland and Germany.
I can't wait to play more concerts with my wonderful trio soon and to reunite with great trombonist Adrian Mears. More jury work and other things are coming up and in December I will also play some more solo concerts and share the stage with fantastic colleagues. I will keep you posted.
Hope to see you somewhere! Best wishes,
Anke
Links:
- Persönlichkeit mit Vision
- Kraftvoll, elegant und fantasiereich
- Am Mikrofon die Pianistin Anke Helfrich
- Echo Jazz 2016 / Anke Helfrich Trio playing "Sagrada Familia" youtube
- Making-of-CD-Dedication: youtube
Festspiele Wetzlar
Cecilie Norby's Sisters in Jazz at Ystad Jazz Festival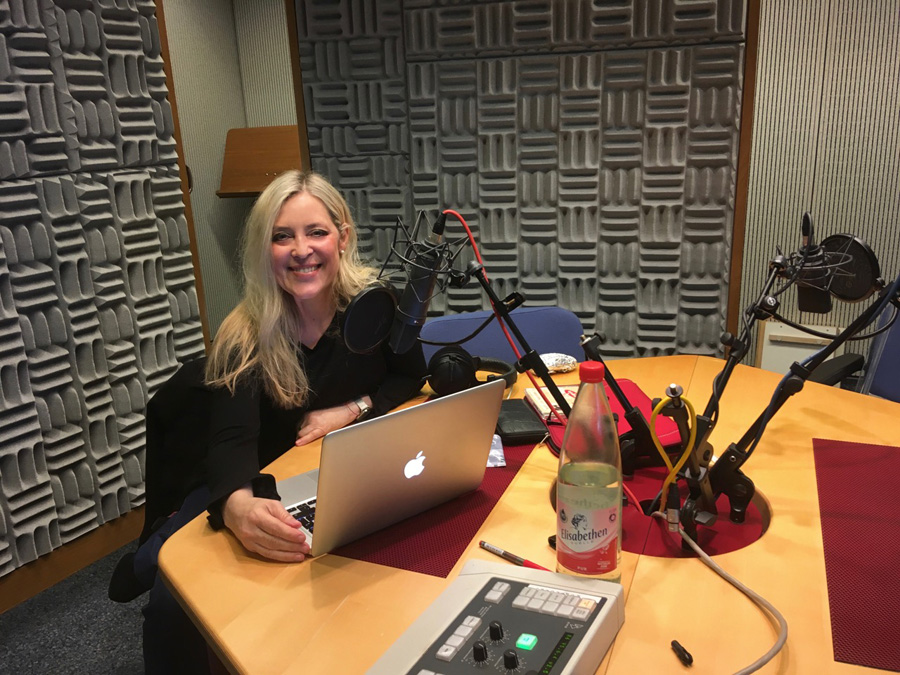 At the SWR-studio in Baden-Baden to record my radio program 'Female Jazz Piano' - it will be aired on SWR2, April 27th at 22:03
"Ambassador of Weinheim", photo by Stella Kirgiane-Efremidis
Sketch-Jazz-Session with great artist Nicole Schneider in February 2019
painted by Nicole Schneider during our trio concert at the Jazzinstitut Darmstadt in December 2018
Concert with my trio featuring trumpet legend Franco Ambrosetti in Heppenheim, November 2018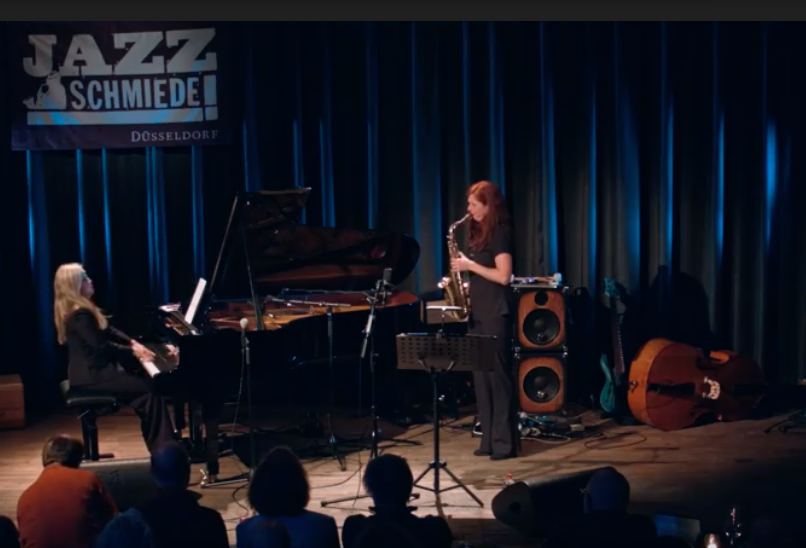 Anke Helfrich & Angelika Niescier Duo live at Jazzschmiede Düsseldorf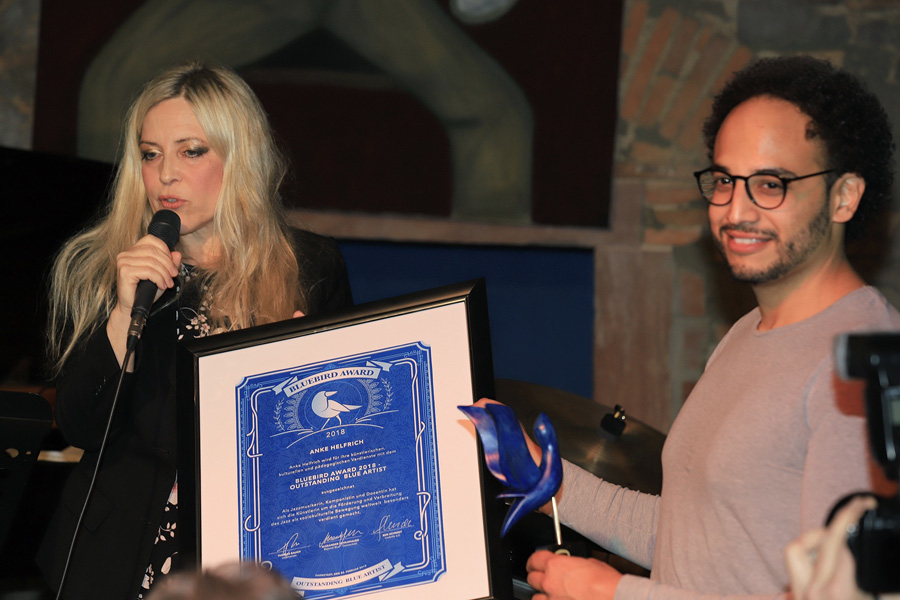 Award-Ceremony at the Jazzinstitut Darmstadt. Photo by Michael Frank
Award-Ceremony at the Jazzinstitut Darmstadt with Arndt Weidler, Alex Schildhauer, Anke Helfrich, Ben Schmidt, Ramon Valle Trio and his wife Marret, Peter Klohmann. Photo by Gunnar Fuchs
Concert Anke Helfrich Trio in Bari October 2017
Anke Helfrich Trio at Katowice JazzArt Festival/Poland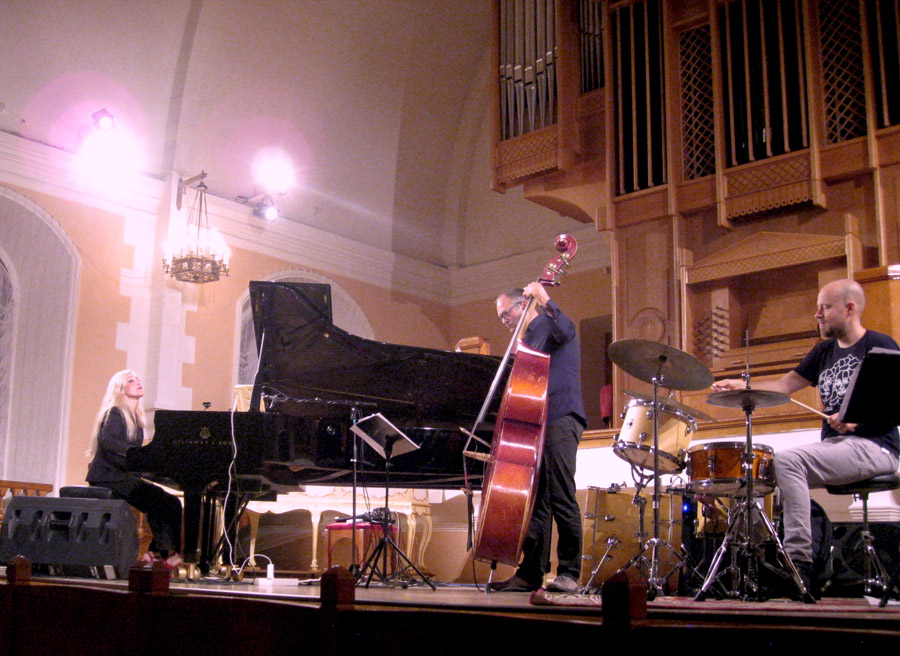 concert in Russia // photo by Friedhelm Schulz
rehearsal with Archie Shepp's band // photo by: main noir / st.tropez
More links:
- facebook.com/pages/Anke-Helfrich/
- facebook.com/people/Anke-Helfrich/
- Köpfe der Bergstraße